Internship
MGT3029 Management Internship/ ITN3001 Field Experience (Job Placement)
Academic background is not the only thing employers look for in candidates, but also professional experience. Through internship, not only can BBA-MGT students put Management theories and academic experience into practice, but also gain hands-on professional experience and insider perspective of the industry.  A better understanding of the workplace and skill development will also provide students a cutting edge in job hunting after graduation.
How do you make yourself stand out in job interviews among other fresh graduates?  Start applying for an internship today!
Aims
This module aims at providing students an opportunity to gain real work experience in various sectors so as to understand the nature of the business and plan for their career path upon graduation. In order to fulfill the work experience requirements, students have to work for a total of 150 hours.
Module Information
Counting of credits & overloading issue:
MGT3029/ ITN3001 is a 3-credit module which will be counted as an elective module * to the study load of a specific semester, as shown in the table below. Student can still take this module even though the total number of modules registered exceeds the number of modules required in a normal semester (normally 4-6 modules in Semester 1 & 2; 1 module for Summer Term).
| | |
| --- | --- |
| Period taken | Credits to be counted to |
| Semester 1 | Semester 1 of the same Academic Year |
| Semester 2 | Semester 2 of the same Academic Year |
| Summer (Jun-Aug) | Semester 1 of next Academic Year |
| | |
* Category of electives may be subject to change
If you will engage in full-time internship during the term time, you are required to:
1. apply for study deferment to the Registry;
2. contact BBA-MGT Programme Office (mgt@hsu.edu.hk) for the semester in which you will resume studies.
Comparisons between MGT3029 and ITN3001 :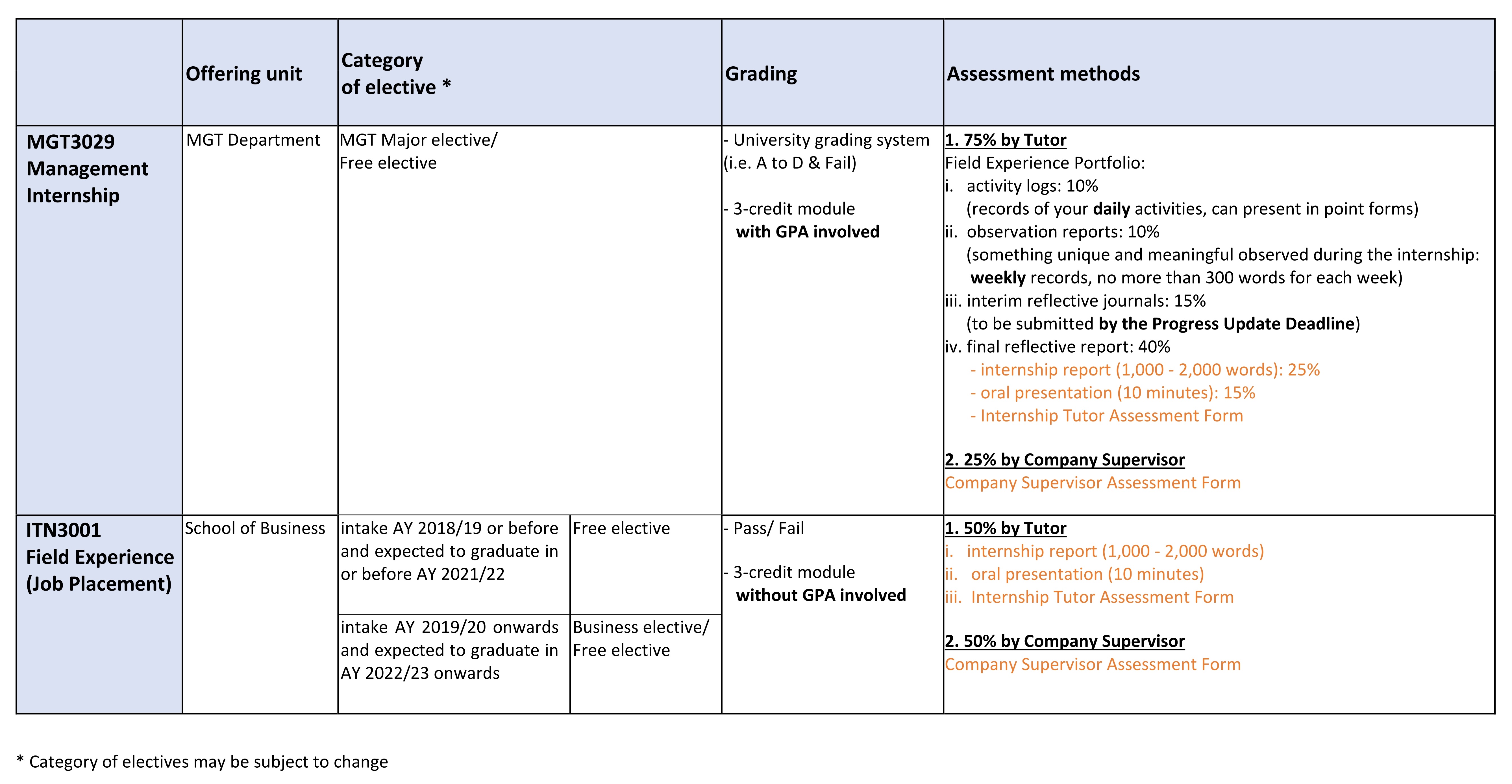 Remarks:
Student can take ONLY one of the following modules AT MOST throughout their study in HSUHK:
MGT3029 Management Internship
ITN3001 Field Experience (Job Placement)
MGT3024 Management Consulting Project
PRJ3002 Field Experience (Company Project)
Approval Criteria
​- BBA-MGT students are eligible to enroll for MGT3029/ ITN3001 from Year 2 onwards;
– Get approval before the commencement of the internship;
– 150 hours count from the date of internship approval;
– 150 hours obtained from ONE job only;
– Obey the rules from Guidelines on Internship Approval Criteria for Self-Searched Internship.
Application Procedures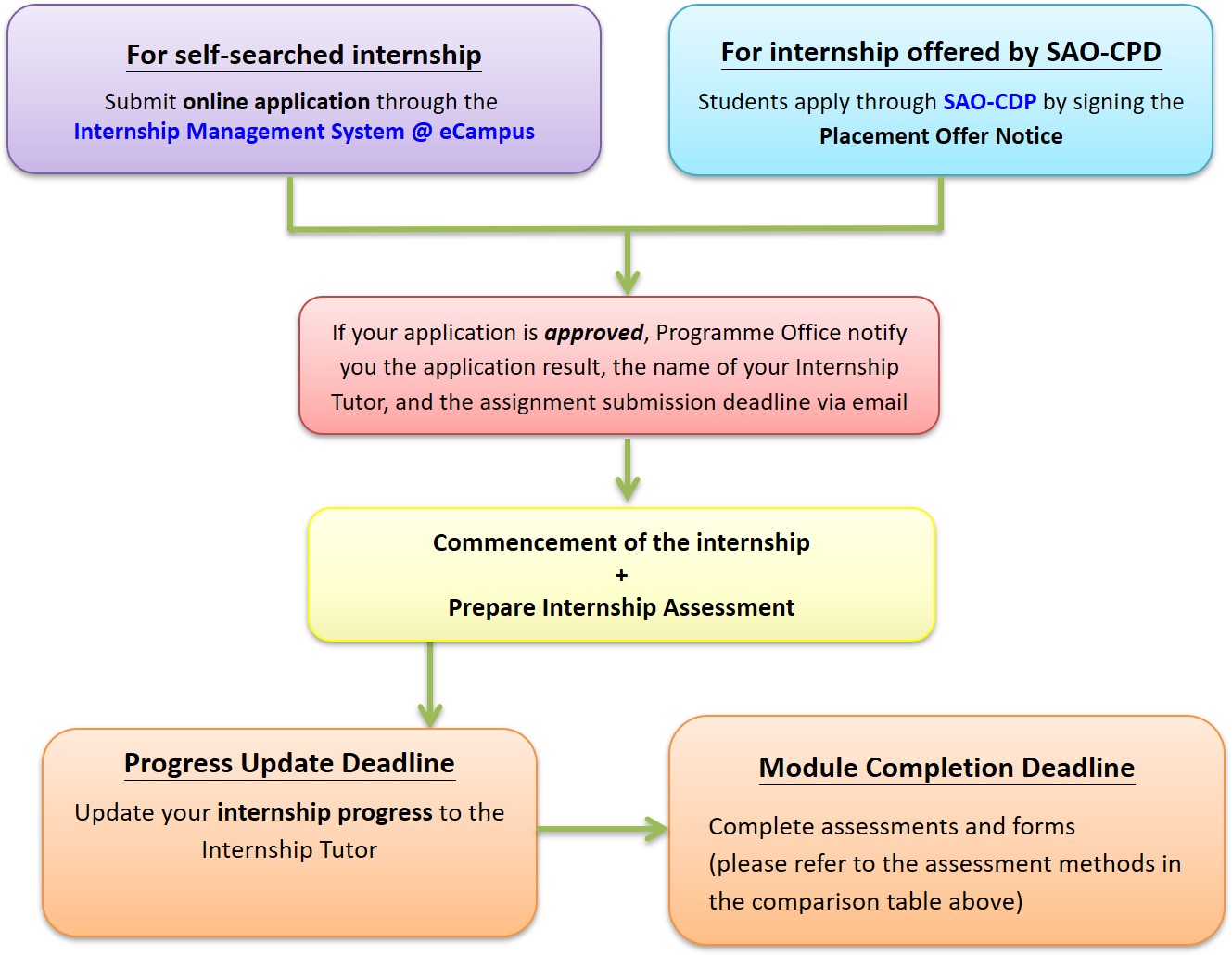 For self-searched internship
Submit an online application through the Internship Management System @ eCampus  by the application deadline (refer to the table below), a name card from your supervisor is required.
For internship offered by Career Planning and Development, Student Affairs Office (SAO-CPD)
Complete the On-line Placement Offer Notice before the commencement of the internship, please refer to the website of SAO-CPD or contact SAO-CPD directly for more details.
Important Dates and Notes
For 2020/21 academic year:
Period of Internship
Application Period
Progress Update Deadline
Module Completion Deadline
Credits to be counted to
Semester 1
2020-21
31 Jul  (Fri) to 28 Aug 2020 (Fri)
23 Oct 2020 (Fri)
04 Dec 2020 (Fri)
 Semester 1 of the same Academic Year
Semester 2
2020-21
11 Dec 2020 (Fri) to 8 Jan 2021 (Fri)
 12 Mar 2021 (Fri)
23 Apr 2021 (Fri)
Semester 2 of the same Academic Year
Summer (Jun to Aug 2021)
21 May (Fri) to 18 Jun 2021 (Fri)
16 Jul 2021 (Fri)
17 Sep 2021 (Fri)
 Semester 1 of next Academic Year #
# The 3-credit module will be counted as one module enrollment in Semester 1 of 2021/22.
– Application will be accepted 4 weeks prior to the application deadline.
– Approval of a job placement refers to one enrollment of the module MGT3029/ ITN3001. Any job termination including the withdrawal initiated by the student or job change, without a sound justification, students will be classified as FAIL in the module.
– During the internship, students are required to update the internship progress (discuss the format of internship report and oral presentation as well as the date of oral presentation) to the Internship Tutor.
Module Completion Deadline
– Upon completion of 150 hours of internship, students have to complete assessments and forms (please refer to the assessment methods in the comparison table above). Failure to meet the requirements by the completion deadline will be granted a FAIL grade.
Useful Forms
Company Supervisor Assessment Form (MGT3029)
Internship Tutor Assessment Form (MGT3029)
Company Supervisor Assessment Form (ITN3001)
Internship Tutor Assessment Form (ITN3001)
Enquiries
| Contact person | Direct line | E-mail |
| --- | --- | --- |
| Dr Raymond Law | 3963 5096 | raymondlaw@hsu.edu.hk |
| Department of Management | 3963 5342 / 3963 5565 / 3963 5566 | mgt@hsu.edu.hk |
| | | |